14 Days Return Period. 100% Money-Back-Guarantee!
 Secure Payment Guaranteed
 7 Days Per Week Customer Support
Get those long luscious locks you've always

dreamed

of -

 withing 10

 seconds!


Want to step up your hairstyle with a quick fix? Your dream hair is just a clip away! These Clip-in Hair Extensions are a quick and easy way to add length, volume, and elegance to your thin or dull hair. It is the best option for a zero-damage transformation. You can clip them in and out whenever you want!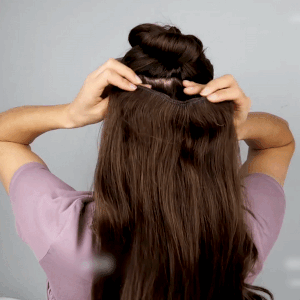 The Clip-in Hair Extensions are fused delicately on soft lace with the ultimate precision, which reduces tangling and helps prolong the longevity of the extensions. With the finest synthetic fiber hair strands in natural layered tips, it can instantly give life and volume by blending in with your natural hair.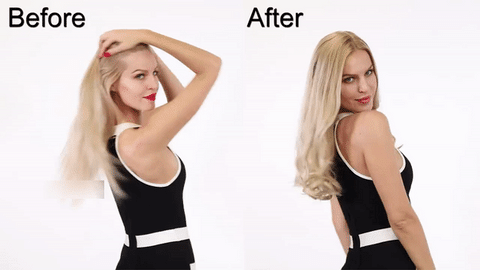 The Extensions contains five two-way clips for easy application and secured placement. No hassle, a one-minute fit hair extension for a fuller, bolder, and longer hairstyle! By simply clipping in between your hair, these Clip-in Hair Extensions add length, volume, and wow factor!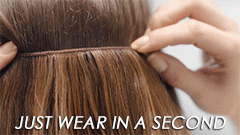 WHY CUSTOMERS LOVE THE CLIP-IN HAIR EXTENSIONS:
✓ Comfortable fit- The Clip-in Hair Extensions are designed to be wearable for a whole day without causing any hassle. With its soft base construction, it will easily contour any head shape.
✓ Flexible & Adjustable - Simply tighten or loosen the clips to the desired tightness. Also, it features soft lace and a stronghold clip that is suitable for all head sizes. 

✓ Blend in naturally - Securely clip into your head with a stronghold clip that can be secured in place and flawlessly covered by your own hair.

Easy to use and easy to care-  It's lighter and really easier to apply and remove without any extra help in a few minutes! It is also reusable up to numerous times!
✓ Matches your Hair Color - We offer 7 shades to ensure a seamless blend with your own hair. You can also try a hair color different from yours for a unique two-tone/ highlight hairstyle!
The Clip-in Hair Extensions are extremely versatile and therefore the must-have for any occasion! You can do ponytails, braid, flip or combine it with other accessories.



CUSTOMER EXPERIENCE FROM MARIA ⭐⭐⭐⭐⭐:
These extensions are worth investing in. I've bought 2 sets of 22 inches clip-in extensions. They're beautiful, so comfortable, and look so natural. I receive compliments constantly on my hair which I never had before getting extensions. My natural hair is thin and limp. These extensions provide volume and length and even with my thin hair, the bonds are not noticeable. If I do a loose pony or up do I can even wear my hair up without the bonds showing.
CUSTOMER EXPERIENCE FROM ALYANNA ⭐⭐⭐⭐⭐:
I have been doing TapeIns for over 6 years and wanted to give my hair a break. So I thought I would try the clip-ins. I love them. They are so easy to use and have helped me style my hair. I can easily remove them and clip them in again, depending on my mood, so it is very convenient to use. The quality of the hair is awesome, I never thought that synthetic hair can blend so pretty with my natural hair. 
OUR 100% SATISFACTION GUARANTEE

😄 99.3% of our customers recommend the Clip-in Hair Extensions, which you get with a 14-day risk-free guarantee.

✅ If for any reason you do not have a positive experience, we will do EVERYTHING to make sure you are 100% satisfied with your purchase.

If you are not satisfied with the Clip-in Hair Extensions, we will provide you with a suitable solution thanks to our satisfaction guarantee.

📞 We have 24/7/365 email support. Contact us if you need any help!