14 Days Return Period. 100% Money-Back-Guarantee!
 Secure Payment Guaranteed
 7 Days Per Week Customer Support
Get

beautiful,

 natural curls 

without the need for heat

! What more could a girl ask for?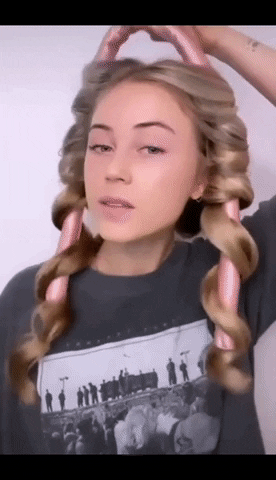 NO HARM! Our curler will give you a new way to curl your hair. It does not require electricity or heat. It will give you beautiful curls without putting heat on your hair. Say goodbye to hair breakage and split ends and say hello to healthy & curly hair!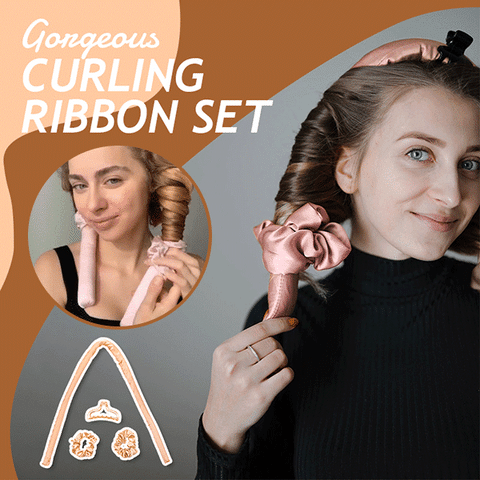 Are you tired of ruining your hair with heat to achieve beautiful waves or curls? Our Silk Hair Curling Ribbon is here to save your damaged hair and give it style at the same time. This new hair accessory curls your hair while you wear it. Put your hair in the headband of your curling iron in less than 90 seconds and wear it around the house or to sleep for a few hours to achieve effortless waves and curls.

Yes! You can also wear it while sleeping. When you wake up the next morning from a sweet dream, you will have beautiful curly hair!


Heat destroys your hair, causing breakage, dehydration and split ends.... That's why our Silk Hair Curling Ribbon is a must-have for your hair care routine. It is made of pearl cotton, which is strong and durable, and can be reused for a long time and your hair will look and feel great.
The especially designed rounded edges and smooth surface of the will hair curling ribbon will not pull or damage your hair. The curling ribbon is perfect for thick, thin, curly and straight hair.


WHAT MAKES THE SILK HAIR CURLING RIBBIN SO SPECIAL:


✓ Curls without damage - The heatless curling ribbon will not damage your hair, whilst giving you natural beautiful curls. The ribbon is made of silk, which is gentle to your hair.


✓ Easy to use - good styling tool for women or girls to curl their hair without other help, giving your hair a shinier and more voluminous feeling, making your look more attractive.


✓ Suitable for all hair types - gentle enough to curl your hair without damaging it, suitable for all hair types, dry or wet hair, long or short hair, thick or thin hair.


✓ Done in a few minutes - the application if the curling ribbon is super easy! You're done in only a few minutes. Ready for amazing curls!
How does it work?
The Silk Hair Curling Ribbon works best on damp hair. Use a hair clip to secure the curler to the top of your hair. Divide your hair into two sections, starting on one side and wrapping individual strands of hair around the band. Wrap all of your hair around the band on one side, after you are done with one side, do the same on the other side. Then remove the clip from the top of your head. This will take about 10 minutes. Leave the curlers in your hair for about 3-6 hours or until your hair is dry. You can also sleep with them overnight.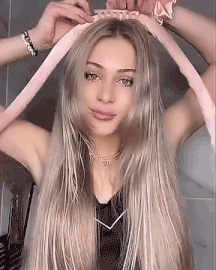 HOW CUSTOMERS EXPERIENCE THE SILK HAIR CURLING RIBBON™

Olivia ⭐⭐⭐⭐⭐ 

Works really well!! My hair normally doesn't hold curls very long, but with this band the curls stay for a few days. It's even comfortable to sleep with. And with my 8 month old, I can do my hair without it being tiring or it costing too much time. I'm literally done in 5 minutes and have amazing volumnious curls afterwards!




Cindy ⭐⭐⭐⭐⭐ 
I love this ribbon! It only takes a minute to wrap my almost dry hair before bed, then I wake up with gorgeous curls. So darn easy!!!! The bottom back hair is always a little damp in the morning and I twist a low temp hair dryer on it before taking the curling iron off and voila!




OUR 100% SATISFACTION GUARANTEE

😄 99.3% of our customers recommend the Silk Hair Curling Ribbon™, which you get with a 14-day risk-free guarantee.

✅ If for any reason you do not have a positive experience, we will do EVERYTHING to make sure you are 100% satisfied with your purchase.

If you are not satisfied with the Silk Hair Curling Ribbon™, we will provide you with a suitable solution thanks to our satisfaction guarantee.

📞 We have 24/7/365 email support. Contact us if you need any help!